Attention Health Business Owners:
Here's how to earn more, doing what you already do, and in less time per day
Become a Trusted Authority and easily add new clients to your health business without building complicated, untested funnels or spending a single dime on advertising in just a few hours a week.
"I made $27,000 in 3 days using what I learned in the Trusted Authority Accelerator"
If you're an accredited health practitioner and have ever felt overworked and like you can't take a break or scale your business, then keep reading….  We are going to reveal how you can position your authority, create an irresistible offer, and build a system that will make you more money in less time each day.
"As a result of what I accomplished in TAA, I got to be a guest on Oprah's The Life You Want™ class and spoke about a project that was birthed during TAA.
The sad truth is that health practitioners are subject to long hours and high-stress levels, leaving many discouraged and not earning enough.
That is, before they join the Trusted Authority Accelerator…
Meet Dr. Dan CarDELLICHIO
Dr. Dan had a typical brick-and-mortar practice – fee-for-service, people paid by the session. He was very frustrated. He found that patients started to drop out just as they began to feel better.
He was paying two new employees to call and remind patients about their appointments – that still didn't work. As a result, his patients weren't getting as well as they could, and Dr. Dan was discouraged, not earning enough.
In Trusted Authority Accelerator, he created a $6,297 program based on what he already knew and had success with and sold nearly $200K of it. The best part is his clients are sticking around, getting great results, and telling their friends.
He's gone from the best-kept secret to the go-to-authority in his niche!
"Everybody's getting results, significant. Others are coming in. They want to come in because they're looking at their spouses significant under saying, Wow, this is great, they've got energy, they feel better." – Dr. Dan
"We're working smarter, not harder. We're actually doing less and providing better services." – Dr. Brian
Dr. Brian had a successful brick-and-mortar business and was struggling to launch an online presence. He was busy booking calls left and right, but they weren't converting well. He followed several marketing gurus, but they just didn't understand health professionals. Then he heard about Mindshare Collaborative and took the dive into Trusted Authority Accelerator.
He realized the problem was that he was a generalist, wearing many different hats, doing many different things to help clients to heal but had been resisting narrowing his niche. He wanted to help everyone.
In TAA, he learned helping everyone is essentially helping no one. He got clear on his niche, packaged his process, created an irresistible offer, and then made $27,000 during a three-day promotion that he's now systemizing to create massive revenue.
Meet Dr. Anita PETRUZZELLI
Dr. Anita had a cash practice but it was fee-for-service. She felt stuck and like she was all over the place. She wanted to work smarter but not harder and make more money. 
She wanted to convert her fee-for-service into packages and programs, and convert current patients into memberships but didn't know how, or what her patients wanted, how to price it or how to market it.
In TAA, she learned to focus on a subset of people she enjoys working with and is successful with. She has a package she offers and a clear way to say what she does and now only works with the people she wants to.
"The same way TAA runs is the same way you'll run your practice. Show up, do your homework, ask your questions!"  – Dr. Anita
Overwhelmed by caring for clients a

nd with an unlimited amount of things to do.

Working around the clock without a break or respite, sacrificing your well-being. 
While your income doesn't match the amount of work and effort you're putting into your business. 
And, your dream of running a profitable business looks further and further away…
We have an invitation for you…
TRUSTED AUTHORITY ACCELERATOR
Effortlessly attract all the clients you need so you can work less, earn more, and love your business again.
In Just 5 Step-by-Step Modules You Will:
Position Your Authority
To Build Your Credibility AND Your Audience – so you can effortlessly attract ideal clients
Package Your Process
So It's Unique and Desirable for Your Ideal Clients – so they instantly see you as their trustworthy guide
Price Yourself Right
To Capitalize on Your Time and Increase Your Earning Potential – so that you can actually work less, while earning more
Promote Your Program
Without Complicated Funnels or Expensive Advertising – proving it's viability without investing too much valuable time and money
Profit And Optimize
Effortlessly Enroll Ideal Clients at High-Ticket prices – so you can profit and scale your business
Why should you learn from us?

We are founded by JJ Virgin. Triple-board certified nutrition expert and Fitness Hall of Famer JJ Virgin has launched 3 multimillion-dollar businesses, including a 7-figure personal brand. She is a 3x Inc. 5000 Founder and a top 10 finalist for the John C Maxwell award. As an authority on transformational leadership, she has coached some of the biggest names in health and transformed the lives of millions of people around the world. JJ is a prominent TV and media personality who co-hosted TLC's Freaky Eaters and was the nutritionist for Weight Loss Challenges on Dr. Phil. She's made numerous appearances on PBS, Dr. Oz, Rachael Ray, Access Hollywood, and The TODAY Show.
Mindshare Collaborative is the most influential professional community in health, having propelled more New York Times bestsellers, PBS specials, and 7 figure brands than any other community.
CONGRATS TAA GRADUATE FOR GETTING ON OPRAH!

 "What I got out of it was far greater than I would ever have imagined. I mean I never thought I'd be on Oprah or launching a Caribbean-wide movement so just by getting clear on what I was doing, on who I was.
Getting clear on my worth, getting clear on my process and my systems allowed me to evolve into the person that has done all that and will be doing so much more." – Dr. Tanya
Overview of The
Trusted Authority Accelerator
5 Module Revenue Growth System
The No-Funnel Approach
The Trusted Authority Team of in-the-trenches coaches will help you price, package, and promote your program with low-to-no-tech so you can start making more money without the headache of setting up funnels, paid ads, complicated sales pages, etc.
At the end of the Trusted Authority Accelerator, you'll have nailed your messaging, niche, strategic marketing plan and have a complete, ready-to-deploy offer that you'll feel confident sharing to attract your ideal clients.
Get clear on what makes you unique, credible, and trustworthy to your ideal client. Go beyond credentials and degrees to identify what your ideal client really cares about when looking for answers so you're the obvious solution.
​​Discover your personal "IT" factor that will make it easy and natural for you to connect authentically with prospects, and develop a trusted relationship without hype, self-promotion, or making claims.
​​Define and refine your Niche and the easy-to-understand results you provide to effortlessly attract and enroll new clients consistently.
​​Take the guesswork out of finding your audience (or even knowing if there's an audience for what you offer)
​​Develop Your 'Attraction Messaging' to be able to clearly communicate what you do in ways that draw your perfect clients to you like a magnet.
Discover how to attract warm leads, using low-tech, low-cost marketing that establishes you as a Trusted Authority to new potential clients who need your services.
Design Your Process & Package It
Discover how to take what you are already doing and design it into a unique process that delivers client transformation every single time.
​​Design the perfect premium package that is aligned with your ideal client and how you want to work so it produces raving client reviews, building your confidence, and bringing you more joy.
Unlock the secret to creating ultimate tranformation for your clients.
Get off the hamster wheel of constantly having to enroll new clients to meet the bottom line.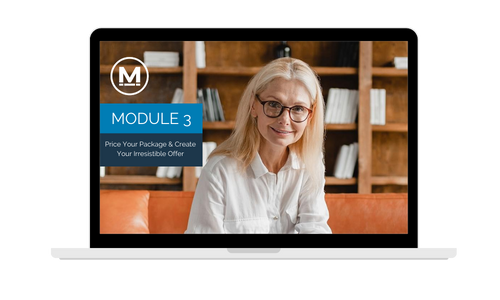 Price Your Package & Create Your Irresistible Offer
Dial in the perfect pricing of your premium package.
Establish high brand value, attracting highly committed clients who will achieve successful outcomes.
Increase your revenue without increasing your workload.
Create your Irresistible Offer that transforms into a no-brainer "YES!" from your clients.
Promote Your Program & Attract Your Audience
Bring your irresistible offer to market using our no-cost / low-cost strategies and done-for-you resources.
Prove your offer viability before spending a dime on costly funnels, ads, or fancy sales pages.
Stop leaving your promotional success up to chance. Use our tracking sheets to get the intel you need to build reliable promotional strategies that work every time.
Engage in a community "Get Clients Challenge" to create unbeatable motivation and drive in accomplishing your goals.
Learn to have effortless conversations with your potential clients so they ask you to become their personal guide, removing any awkward or difficult conversations about price or package deliverables, getting your engagement off to the best start.
Discover how to precisely execute your program leading to a library of compelling testimonials and social proof so that it's simple to scale.
​​Start your clients right so that you get more compliance and better outcomes.
Create a method to gather feedback and testimonials to help grow your program for the future.
TAA Graduate, Lorraine Maita doubled conversions! Wow!
"Before joining TAA, I had a lack of clarity and confidence, not knowing how to best present things in a clear, concise, understandable fashion. After joining TAA, I now do discovery calls with ease, have a clear and simple description of my process and my conversion rates for discovery calls have more than doubled. I have more confidence to ask for what I am worth and more readily connect with my ideal clients. I am making more and working less. I feel more clear and confident in attracting my ideal client and was able to raise my rates without skipping a beat."
Take a look at what's included when you become a member of the Mindshare Trusted Authority Accelerator.
15+ TRUSTED AUTHORITY RECORDED TRAININGS THAT INCLUDE DONE-FOR-YOU TEMPLATES AND RESOURCES, AND ASSIGNMENTS FOR PRACTICAL APPLICATION
15 GROUP Q&A CALLS WITH THE TRUSTED AUTHORITY COACHES TO GET ANSWERS TO YOUR MOST PRESSING QUESTIONS
PRIVATE COMMUNITY GROUP TO BOND WITH YOUR PEERS AND GET SUPPORT FROM THE TRUSTED AUTHORITY COACHES
SPEED NETWORKING SESSIONS TO BUILD POWERFUL BUSINESS PARTNERSHIPS
PEER PRACTICE SESSIONS TO DEVELOP YOUR SKILLS AND BUILD YOUR CONFIDENCE.
MEET YOUR LEAD INSTRUCTORS.
Trusted Authority Accelerator program participants are supported by a team of seasoned coaches with a track record of running successful health and wellness businesses. "Team TAA" are go-givers, connectors, and heart-based business leaders who are deeply passionate about uplifting and supporting others to success!
Meet your amazing team of instructors with real-world expertise to guide you!
Transformational Business Coach & Trusted Authority Director
Susan brings over 20-years of experience in the coaching industry, having coached hundreds of clients globally to life and business success. As an accomplished multiple 6-figure coach, Susan teaches a blend of marketing savvy and transformative soft-skills in the Trusted Authority program so you not only learn the skills to bust out your business, you can enjoy the process of doing it.
As the Trusted Authority Division Director, Susan provides leadership for the curriculum development and Team TAA management, ensuring you can get the most from your Trusted Authority experience.
Dr. Heather Paulson has been through it all, from digital marketing with online summits to leading a multi-practitioner brick and mortar clinic. Along the way to building her email list from 0 – 25,000 people she learned a lot of lessons by first making mistakes on her own and then pivoting into easier ways of doing business with guidance, coaching, and finding a group of like minded practitioners in Mindshare. Utilizing the processes of building authority with a bestselling book and creating a digital platform and funnels for her in person services, virtual consulting, and digital training products she was able to retire from her clinical practice and move to Peru to enjoy a slower pace of life, surrounded by nature, and plenty of fresh grown healthy food. 
Dr. Heather Paulson created the life of her dreams by following the advice of the Mindshare methodology to utilize her 15 years of Naturopathic Oncology Clinical Service into a best-selling book, a profit generating cookbook sales funnel, and a group coaching and DIY Digital course for people with cancer. This allowed her to free up her time from 1:1 clinical services to pursue learning plant medicine in the Amazon Rainforest. One of Heather's dreams is to pass on the hard lessons she learned along the way to help other clinicians build the life of their dreams. 
Dr. Heather Paulson Coaching Zones of Genius
Translating clinical knowledge/experience into online content and programs

Breaking through the thoughts and patterns that prevent your success

Niching down to your Ideal Client

Creating live experiences for transformational healing (retreats, workshops, etc.)

Taking complex concepts and breaking them down into actionable steps

Creating strategic goals that move you from where you are now to where you want to be

Curriculum development

Online course creation

Organizing and executing digital events like summits, webinars, and online conferences

Legal precautions specific to clinical providers when doing digital marketing
Jenn Malecha helps career-driven, results-focused functional health entrepreneurs who are feeling overwhelmed or stuck when getting their business going or growing, by giving you a roadmap to success so you can confidently achieve your business goals and live your dream life!
Using over a decade of business and project management experience, training in Functional Diagnostic Nutrition®️, and Transformational Coaching and she will guide you on creating clarity and setting up solutions to create profitable practices that allow you to heal hundreds of people while working less and taking better care of yourself.
Dive deep with Jenn on:
What makes you unique and identifying your ideal customer to discover your niche
Getting crystal clear on what problems you solve and the solutions you provide for your high-ticket 1:1 packages and designing them to meet your financial needs
How to conduct a high-value consultation for your high-ticket 1:1 packages that results in the potential client asking you how they can enroll instead of you having to ask them, making the money topic a non-issue!
Using target market research to find your ideal clients and where you should funnel your marketing efforts based on who they are and where they spend their time looking for information.
Streamlining your customer onboarding process to deliver first-class customer service and create an endless source of referrals
Delegating and automating to elevate your business so you can work less while helping more people, making more money and taking better care of yourself
Joan Rosenberg, PhD, psychologist, is a best selling author, corporate wellness consultant, and media expert who is known globally as an acclaimed speaker and trainer on communication, confidence, resilience, authenticity and grief.
As a three-time TEDx speaker and member of the Association of Transformational Leaders, she has created and been recognized for her innovative Emotional Mastery / confidence building approach, and for her thought leadership and global influence in personal development.
Dr. Rosenberg has served as a mental health media consultant for documentaries, print, radio, television and digital outlets. She is a professor of psychology at Pepperdine University. To learn more, visit DrJoanRosenberg.com; you can follow her on Instagram here. Her latest book is 90 Seconds to a Life You Love: How to Master Your Difficult Feelings to Cultivate Lasting Confidence, Resilience and Authenticity.
Lauren Powers is a 7-figure business marketing coach helping doctors, dentists and small business owners NOT SUCK at business. She currently serves as president of Microsite Digital Marketing agency where she has helped hundreds of healthcare practitioners generate millions of dollars in revenue through their coaching and advertising services. Lauren is a business coach for Mindshare Collaborative, the largest global consortium of practitioners across specialties.
She is an active philanthropist and Founder of the HBCU Legacy Foundation, an organization focused on financially supporting, mentoring, and coaching Black students to successful employment post-graduation. 
After going through her own experiences of founding and running one of the largest gyms in Atlanta for over a decade, working in a sales and marketing capacity for 7 fortune 100 healthcare organizations, and supporting over 100 start-ups, she can easily coach a hungry entrepreneur to success. 
Dive Deep with Lauren on:
Defining avatar and hero story
Website and funnel development
Understanding google and facebook ads
Coaching your team to sell 
Marketing and lead management processes and strategy
Nat Kringoudis is your good dose of support, guidance and cheerleader all rolled into one. She's here to help you up-level your business and to tap into the good, the bad, and the ugly mistakes she's made in her 20 years as a health expert and multiple business owner so that you don't have to. Whether you're a practitioner, health advocate, leader, or just a badass in your industry, she wants you to learn from her mistakes, so that you don't make bad choices and helps you be the best version of yourself, in business.
Nat is a 2 x best selling author, 2 x podcaster, Doctor of Chinese Medicine and Acupuncture, household name with over 18 years in the industry. From books to podcasts, product creation, marketing, content creation, branding…. If she's done what you want to do, she's here to help you achieve it. Consider time with Nat a slip-stream towards your very best business.
Nat sweet spots to help you lie in;
Setting up brick and mortar systems to create efficiency and more time to focus on doing what you love, strategy and team management since the team are at the heart of your business.
Efficiently create marketing and product launch strategies, creation and execution to get your product or service seen and sold out!
Show you how to create your six figure ambassador partnership and build long term relationships with brands to keep you on their frontline.
How to create products that sell, read the audience and turn around product timelines effectively and efficiently for maximum sales.
Copywriting from the ground up, tweaking current copy and testing copy so that it delivers.
How to create or recreate your podcast so that not only do people download and listen, but you can get paid to podcast.
2023 will mark Pattie Ptak's 30th year in the Health Industry. She started as a patient, but after frustration and underwhelming results in the traditional "health" care system; she became a clinic owner, hoping to help shine a light on alternatives to traditional medicine for patients like her who were not getting results, despite doing "everything right". 
Under Pattie's management, the clinic grew from 11 to 200 patient visits per day by word of mouth and creative marketing in less than 3 years.  In 2009, Pattie sold her interest in the practice and started her own comprehensive detox and wellness company. 
She began coaching doctors and health experts under the Integrative Practice Wellness Brand, (JJ's first practitioner coaching company) to help practitioners break out of their traditional Brick and Mortar practice. In this role, Pattie helped clients learn the principles of collaborative compounding, online marketing, incorporating multiple streams of income and establishing systems and SOPs to automate and streamline their physical practice; allowing them more time and freedom to create their online business. 
In 2012 Pattie became the Executive Director of the Mindshare Summit/Collaborative. She served in that capacity for three and a half years, during which time the Mindshare Summit event grew from 40 to 350 attendees, all by word of mouth. She also played a key role in the creation of the Mindshare Mastermind and served as lead coach for the group from 2013 to 2016.
In December of 2012 she founded Practice on Purpose, a business consulting group for practitioners.  She is creator of The Practice Success Academy and The Staff Training Bootcamp online.  
Pattie divides her time between Scottsdale Arizona and Tulum Mexico, with her little chiweenie dog, Max.
Career Highlights: 
Core Faculty of the Institute for Functional Medicine Health Coaching Academy, teaching business development to the Alumni; Served for the past 6 years on the Board of Directors of the Institute for Natural Medicine, the non-profit organization associated with the American Association of Naturopathic Physicians, that supports Naturopathic Doctors and natural medicine. Certified Barre Instructor.
Sinclair Kennally has built 4 multi-million dollar businesses in health and product development, is an award-winning expert on chronic digestive illnesses, the CEO of Detox RejuveNation, and host of Your Health Reset Podcast.
Her big passion is helping health experts to share their gifts, and she's been teaching health practitioners and wellness entrepreneurs to grow their impact online since 2010. Her clients have enjoyed $50M in increased earnings in the last 2 years alone.
She's built her most recent multimillion dollar brand from scratch in just three short years, using high ticket selling as the foundation.
Deep Dive with Sinclair on:
High ticket selling: how to design and sell packages to your ideal avatar with high rates and high conversion.
Branding refresh: when your focus (or your avatar) has shifted and it's time to push for expansion and increase conversion, sit down with Sinclair to clarify your new vision and craft a strategy that will easily translate for your internal team and your audience to make the most of the rebrand.
Optimize your customer journey: design your suite offerings so that each purchase leads to the next, and creates loyal customers.
Big picture strategy: is it time to level up? Do you need to restructure your business for growth? Take a fresh look at your biggest opportunities, so that you can focus on the single project that will help you make the biggest leap.
You are ready to add Leveraged Income to your Health Business
The ONLY Question Remaining To Answer Is… How Big Are Your Goals?
Way To Go TAA Graudate Heather Gray – Lyme Boss
"Before joining TAA, I was feeling lost, alone, unable to cut through the noise. This tribe is amazing. After joining TAA, I now have more focus, and really have a better grasp of copy and who my target is. I will use what I have learned on a daily basis. Writing copy, finding out who my target market is, testing it, building webinars, sales, and elevator pitch. All of it!!." 
ENROLLMENT WINDOW ONLY BONUSES FOR THE TRUSTED AUTHORITY ACCELERATOR
To help you understand what drives the impact of our members' experience, here are some benefits you receive:
BONUS 1: Find Time & Plug Money Leaks
This training has helped hundreds of successful health professionals find $10,000, $20,000 – even $36,000 of new money in just 90 days – without creating a new program, funnel or advertising campaign.
BONUS 2: Building a High Converting Webinar with JJ Virgin
Get this 90-minute training by JJ Virgin, where you'll learn the exact steps she's used to successfully deploy multiple high-converting webinars for health-related programs and products. Follow this perfect template and take the guesswork out of making a high converting offer.
BONUS 3: BUILD A BETTER BIO WITH SAM HORN
People often decide in seconds whether they want to work with you. Your bio can be a deal-maker or deal-breaker when it comes to your business success.
Watch this training with Sam Horn, CEO of The Intrigue Agency, to discover what makes a great bio and how to create a winning bio of your own.
TAA Graduate, Dr. Wendy Warner, you feel like family to us too!
"Before joining TAA I was getting stuck in the one-to-one trap; too limited. Now I have a much better vision of how to move forward, in a very practical way, loads of practical info that I can refer to, plus a new community I can reach out to when needed. In TAA, it has felt like a family from very early on. That's hard to set up for us, and for that, I thank you."
We know the system works and guarantee if you complete the classes, do the work, show up to be coached and take a lot of imperfect action… you'll get results.
But don't take our word for it.
Here's what Dr. Bryce Appelbaum has to say about his success using the Trusted Authority Accelerator System
Dr. Bryce DID THE WORK AND CREATED SUCCESS
Dr. Bryce wanted to get out of the rat race of his busy practice. He was slammed all day long with patients, wearing too many hats, putting out fires – working with many different populations in different ways.
By following the step-by-step formula provided in TAA he narrowed in on a market he was already serving and launched three new sources of revenue doing something he was already doing – it was already right in front of him but he was barely scratching the surface of what was possible.
"Literally just follow the steps they make you do this homework. There's ways to show up and it absolutely works, is working, and I'm just getting started with all this. So appreciate this team here and every single word that comes out of their mouths is gold."
– Dr. Bryce
Mentorship in the Trusted Authority Accelerator
Total Retail Value $29,000.00Regular Investment $7,997
Total Retail Value $29,000.00
Regular Investment $7,997
$997 Deposit Today
Balance Due July 1, 2023
$997 Deposit Today
$1179/mo x 5 Starting July 1, 2023
We're excited for TAA Grad, Jannine Krause's complete framework to launch!
"Before joining TAA I would put together program after program but not do all the work sequentially to set them up correctly then never launch it. With TAA I was finally able to see my blocks in my progress and where I had gone wrong in my DIY approach. I finally have a niche narrowed down and the complete framework to launch a program that I am proud of. Thank you to all the TAA guides for your support! "